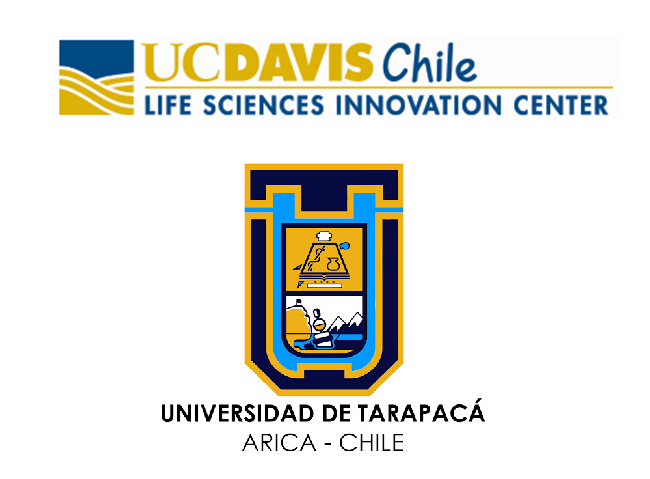 Both positions report to Bioproducts Development Coordinator, UC Davis Chile in conjunction with the head of the Phytopathology Laboratory in Universidad de Tarapaca, Arica.
Description:
Due to the growing demand for sustainable biological solutions in the Chilean agri-food sector, UC Davis Chile seeks to expand its impact through the development of applied R&D lines related to biodiversity platforms and bioproduct development.
The positions are in the frame of a collaborative project between Universidad de Tarapaca and UC Davis Chile. They require experience in phytopathology or microbiology; scaling of biological products (fungi, bacteria or nematodes); fermentation control and/or development of new formulations. Experience in efficacy testing, both in green house or field are also desired.
Post-Doctoral researches will conduct scientific investigation across food and agriculture industries, they will contribute to and implement novel methodologies, demonstrating scientific and mature technological judgement, independence and ability to team work.
Functions and Responsabilities:
• Collect samples and execute field work in different parts of Chile.
• Develop new methodologies for functional screening of valuable functions in microorganisms.
• Generation, characterization and indexation of large microbial collections.
• Develop of scaling up, fermentation control and formulation for different microbial bioproducts.
• Conduct green house and field efficacy tests.
• Establish high standards of performance and quality of work.
• Work with the research team in developing, administering and managing project budget.
• Contribute in simultaneous projects and assist in the development of new projects.
• Generate detailed R&D technical reports.
Qualifications/minimum requirements:
• Requirements: Ph.D with an accredited experience in areas of biotechnology, plant biology, microbiology and/or product development.
• Represent UC Davis Chile with the absolute highest standards of professionalism; strong fiduciary mindset, uncompromising ethics and integrity; ability to act professionally and handle sensitive, confidential, or privileged information.
• Strong skills in scientific methodology development.
• Knowledge and experience in budget development.
• Ability to work with non-technical stakeholders (e.g. food producers).
• Abilities / Skills for: results orientation, planning, organization, problem analysis.
• Ability to teamwork and have a commitment to efficiently and thoroughly complete a job.
• Excellent interpersonal communication skills and proficient in both oral and written English and Spanish.
• Availability for domestic and international travel.
Availability: This is a full time position, starting May 15th 2017.
Salary: Commensurate with qualifications and experience / or fixed gross salary
Close Date: In order to ensure full consideration, applications must be received by May 10th 2017.
To apply, please send your CV, cover letter and 2 letters of recommendation. Please, indicate if your postulation is for the position in Arica, Santiago or both.