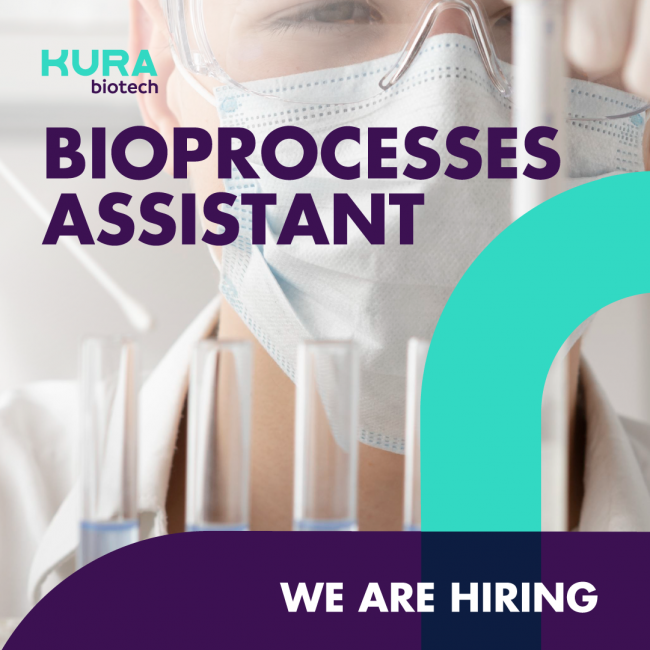 We are searching for a highly motivated and proactive science person to join our Recombinant Enzymes team in our headquarters location in Puerto Varas, Chile. The role of this scientist will be crucial in the production of key new enzymes we're constantly developing, focusing on bioreactors processes for enzymes production.
Kura Biotech is the world leading biotech company in the development of enzymes for toxicology, and we are expanding into providing enzymatic tools for proteomic and genetic applications. Since March of 2020, we've also been developing COVID testing kits.
What would your responsibilities be:
– Execute microbial cell cultures bioprocesses for recombinant enzymes
– Raise warnings on potential alerts in the process
– Identify potential improvement opportunities within the production process
– Actively participate on Operations initiatives and group discussions
We are not just another biotech company out there, we are Kura Biotech, and we have four key commitments that guide our actions day to day:
1. Human Connections: we're all persons, and we have to value and respect ourselves as such
2. Give Back Will: we see our community as an ally, and we search for people that are willing to participate in our Give Back program, in which we support social initiatives in Education, Childhood and Environment, initiatives that are proposed and democratically voted within our own team
3. Limitless Spirit: we think big, measuring our challenges by their potential rather than by their limitations
4. Unapologetic Standards: quality and excellence are a must; we don't look for excuses, we look for solutions so excuses don`t exist.
Do these commitments move you enough to be part of the challenge? If so, there are some additional requirements:
– Scientist with a background in biochemistry, chemistry, biotechnology, bioprocesses or similar
– Experience in processes intensive in the usage of bioreactors
– Experience in different types of cultures, such as batch, fed batch, and bioprocesses scaling
– Experience in microbiological techniques and laboratory equipment management, such as pH meter, centrifuges, and laminar flow cabinet.
– Experience under quality management systems, such as ISO, GMP, or others
– Full professional proficiency in English
– Excellent communication skills and project management
– Team work skills
– Method and order
What we are offering you:
– To work alongside a highly engaged, challenging, and motivated team
– To be a part of the worldwide industry leaders in enzymatic development, and the pioneers in the development of COVID testing kits in Chile
– An amazing work environment, with an astonishing view of Lake Llanquihue and volcanos
– Annual incentive subjected to assessment
– Daily on-office lunch
– Optional and copaid health insurance (with dental, catastrophic, and ophthalmological)
– Annual bonus of up to 2 monthly salaries
– 5 annual additional rest days after one year within the company
We are searching for someone who has a fit with us: A proactive person, someone who´s ethically untouchable, with entrepreneurial spirit and high flexibility to face the dynamism of our business.
If you feel identified by this description, don´t hesitate and complete this form:
Apply here: https://forms.gle/83cCWWBHnVQ2HB8a7
We hope to meet you in a future interview.
Good luck!
Fecha publicación: 19 febrero 2021