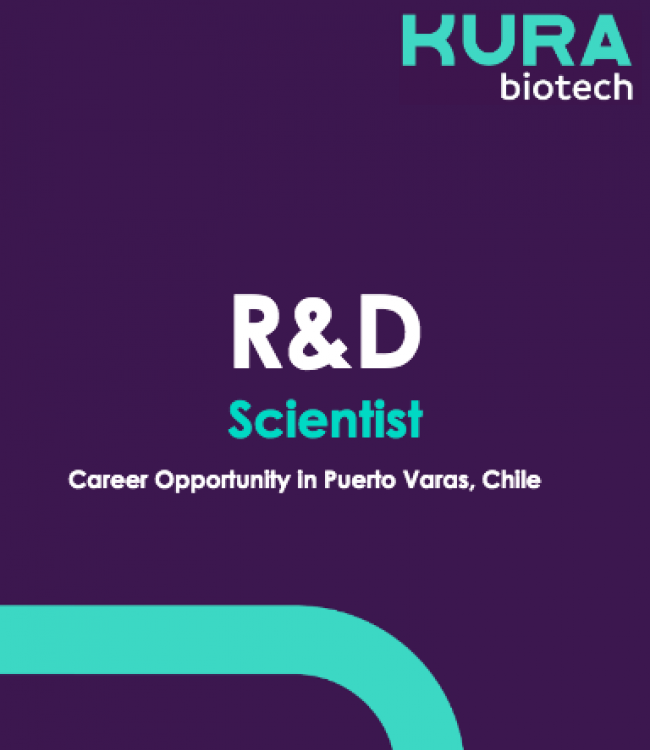 Hi there!
We're searching for a scientist to join us in creating the best enzymatic tools to streamline sample preparation. Workflows for Transcriptomics applications have so many limitations, by removing them you will not only help these amazing technologies move forward, but also challenge yourself to learn and achieve what it takes, and to be a force of good for the world.
The ideal candidate for this position will be a team player who's passionate about enzymes and proteins, how they work, and how we can make a useful tool out of them. We are after a thorough and curious mind that wants to lead the initial research process of a product before taking it to the market.
This role should bring creativity, autonomy and extensive technical laboratory skills. It has the ability to streamline research processes and to bring an idea into a product prototype for further development. In concert with senior management in the R&D department, you will help develop the product pipeline for the company's future growth into new market opportunities.
You will be a key member of the R&D team, reporting directly to the Head of Proteomics and Toxicology. You will have the opportunity to become a critical piece in increasing our product development success.
Your success will be measured upon two main objectives:
Propose

ideas to solve problems according to market requirements.

Research and develop

new product prototypes for further transferring into final products.
On a daily basis, you will have to design experiments, execute them, and communicate your results, showing perseverance and frustration management. And of course, to laugh and to have fun inside and outside the lab with our awesome team.
This role will work in our headquarters lab in Puerto Varas, Chile. 
About Us
Kura is the largest Beta Glucuronidase producer in the world, leading not only in volume and revenue, but also offering the irrefutable best product in the category.
With the Pandemic, we managed to become one of the key players in the country by supplying the government and several private institutions with the first SARSCov2 PCR detection kits.
With a proven value creation record, unquestionable pivotal skills, and a strong collaborative team, we are looking for new talent to join us in a key moment for  the  biotechnology industry.
Requirements
Fluent in English, both written and orally (Spanish desirable)

Creativity to think outside the box and bring new ideas

Rigorous technical laboratory, data management and analysis skills

Perseverance to finish long-standing projects

Teamwork abilities

Dynamic, self-motivated, and able to work both independently and as a team with a proactive approach to take on challenging assignments

Ability to work and deliver within critical timelines

Proven ability to function at a high independent level with clear lines of communication with key company stakeholders

Strong project ownership ethic with a "can-do" attitude
Key responsibilities
Set objectives along with the team and design experimental plans for achieving them

Execute experimental plans in and out the laboratory

Build reports on said plans, be accountable for them, and make sure that the appropriate stakeholders have the information

Propose, build, and present new product projects to the Project Evaluation Committee
Education
Desirable PhD/Postgrad studies in biochemistry, molecular biology, cell biology or biotechnology
Experience
At least 5 years bench laboratory experience (can include post-graduate studies) or 2 years bench industry experience.

Desirable experience:

Expression of recombinant enzymes

Different protein purification strategies and optimization (e.g. Affinity, anion exchange, size exclusion)

Design and execution of protein detection assays (e.g. ELISA, Western blot)

Design and execution of enzyme activity assays (e.g. fluorescence methods, colorimetric methods)

Design and execution of protocols for protein and RNA detection in tissue slides (e.g. IHC, FISH)

Design and execution of nucleic acid detection and quantification (e.g. RT-PCR, RNAseq)

Optimization and execution of fluorescence microscopy measurements and image analysis
What we offer
Attendance to Scientific Conferences and/or Career development opportunities.

Paid English classes to take you to the role's required level.

Daily in-office lunch

Optional and copaid Health Insurance

1 additional vacation week between Christmas and New Year's Eve

An amazing work environment

Breathtaking views of Lake Llanquihue in Puerto Varas
If you feel identified by this description, we would love to meet you! Please go ahead and complete the Application Form!
Application deadline is November 30th 2022
For any questions, please contact talent@kurabiotech.com